ABout 608 Sound & Light
Steve Litscher – FOH, TM, PM, Monitors, tracking & More
Steve Litscher has been working his FOH magic for more than 25 years, getting his start in small clubs and theaters around the midwestern United States. Early into his career, he helped record and mix a demo album at the infamous Paisley Park and from that point he was hooked on all things audio.
While life's responsibilities kept him from touring full time, he did stay active in the midwestern music scene by starting 608 Sound and Light and building the production company into one of the area's most respected and sought after sound and lighting companies.
When Steve had the opportunity to tour full-time, he left his job as a senior project manager and hit the road. Since then, he's mixed hundreds of shows across all fifty states and several continents, much to the delight of audiences and artists alike.
Steve prides himself on being a hard-working, responsible, accountable and well organized team member. In addition to being one of the industry's top front of house engineers, Steve is also adept at tour management, production management, monitor engineering, live multitrack recording, and more.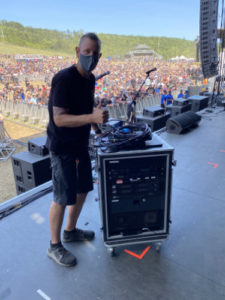 TOURS & Productions
Some of the Teams that steve has worked with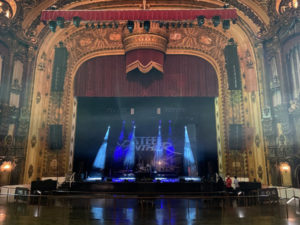 ASKING ALEXANDRIA (MONITORS) – 2022
ATREYU (FOH) – 2022
DWP FESTIVALS (FOH)
GEMINI SYNDROME (TM/FOH) – 2022
STITCHED UP HEART (TM/FOH) – 2019 > 2022
KIKI'S HOUSE OF RIGHTEOUS MUSIC (A1/FOH) – 2013 > 2022
JEM PRODUCTIONS (FOH/MONITORS/PM) – 2019 > 2022
how can 608 Sound & Light help you?
Steve and the 608 team are friendly, top-notch and proficient with the following systems, technologies, and services. We'd love to help your next tour be bigger and better than ever before. Contact us and let's chat about options and opportunities!
Allen and Heath consoles (dLive, SQ, custom control, Director, mix racks, stage boxes)
AVID consoles (Profile, Venue, mix racks, stage boxes)
Behringer systems (Wing, X32, X32 Rack, mix racks, stage boxes)
Dante (Controller, DVS, VIA)
DAWs (Ableton, Logic Pro X, Reaper, Tracks Live!)
Lake processors (LM series)
Midas consoles (M32, Pro-series, mix racks, stage boxes)
Shure wireless workbench (and RF coordination/planning/deployment)
SMAART v7 and v8
Waves SuperRack and plug-ins
Yamaha consoles (CL, QL, Rio, mix racks, stage boxes)
MasterTour (all aspects of advancing, planning, managing, tracking, and reporting for a tour)
Computer networking (ethernet, firewalls, QoS, routing, wireless)
Adobe productivity suite (Acrobat, InDesign, Lightroom, Photoshop)
Microsoft Office products (Access, Excel, PowerPoint, Project, Word)
Automotive/diesel maintenance and repair (former ASE-certified automotive technician)
Electrical systems service and repair